Regular price
€29,29
Sale price
€25,25
Unit price
per
Sale
Sold out
Delivery

RECEIVING AT THE STORE

Receive your order at our shop on Avotu street 1 without any delivery fee. Pay for the order in the store with a bank card.

DELIVERY TO OMNIVA

Receive your order at the nearest Omniva within 1-4 working days. Delivery time may be longer during the holidays and emergencies. Delivery fee: 2.88 EUR. This delivery method is only available in Latvia.

DELIVERY BY MAIL

Delivery within 3-10 working days in Latvia and 7-30 days abroad. Delivery time may be longer during the holidays and emergencies. Delivery fee in Latvia 2.99 EUR, abroad 4.99 EUR.
🕒 Preparation time 15 min.
You will receive it at the store on the same day
With Omniva, you will receive it the next working day (ordering on a working day until 3:00 p.m.)
Natural stones bracelet with drops
Natural stones hide the energy of the earth. They are both beautiful and also give strength, self-belief, love, harmony and protection. Shimmering drops perfectly complement the properties of natural stones.
Stone diameter 10mm

Droplet size 16mm and 22mm
Packaged in our NELA GEMS gift box
Sizes:


S 15-16.5 cm

M 16.5-17.5 cm

L 17.5-18.5 cm


If you want a different size or set of stones, contact us
Agate - Stone of strength and harmony. Strengthens intelligence, increases concentration and analytical abilities (especially helps students, actors), brings luck, increases energy. Promotes longevity. Gives emotional strength, dispels fear, relieves stress. Improves relationships, cleanses and stabilizes the aura by removing or transforming negative energy. Creates a sense of security.

Amethyst - a stone of prudence, strength, wisdom and protection. Symbolizes truthfulness, health and spiritual wisdom. Cleanses from negative energy. Calms the mind, helps overcome fear, relieves stress and tension, calms anger and brings peace, helps maintain optimism, balances mood swings. Helps with insomnia.

Labradorite - a stone of magic. Develops mystical abilities as well as psychic power. Protects the aura - cleanses it of negativity and ensures that energy does not leak. If you are exhausted, it will give you strength. Labradorite has long been considered a stone of money and financial prosperity, it not only attracts but also protects money.

Lava - gives stability and calms. A stone of emotional rebirth that allows you to "drop" unwanted emotions and habits. Strengthens self-confidence and helps to realize your wishes - a very good helper for shy and indecisive people. Especially suitable for a hot-blooded character - allows you to control emotions and temperament.

Lapis lazuli - for self-confidence, justice, openness. It is a stone of health - promotes spiritual healing, gives peace of mind and willpower, increases physical abilities and cleanses the aura, giving a sense of purity, strengthens friendships and helps solve love problems. As a talisman, it brings the wearer luck, prosperity, happy love.

Magnesite - brings peace during meditation. Helps to visualize thoughts. Allows the mind to respond to the desires of the heart, bringing a sense of happiness to the inner world. Improves sleep. Good for health - strengthens and heals the digestive system, blood circulation. Stimulates metabolism, strengthens bones and teeth. Remove, strain, release muscles.
Rose quartz - stone of love, opens the heart chakra for all kinds of love. Increases self-esteem, self-confidence, compassion and tolerance. Helps in partnerships and suppresses negative emotions - anger, fear, resentment, as well as heals emotional wounds and sadness, providing inner peace. Heals on a physical and emotional level. Allows you to open up and accept love.

View full details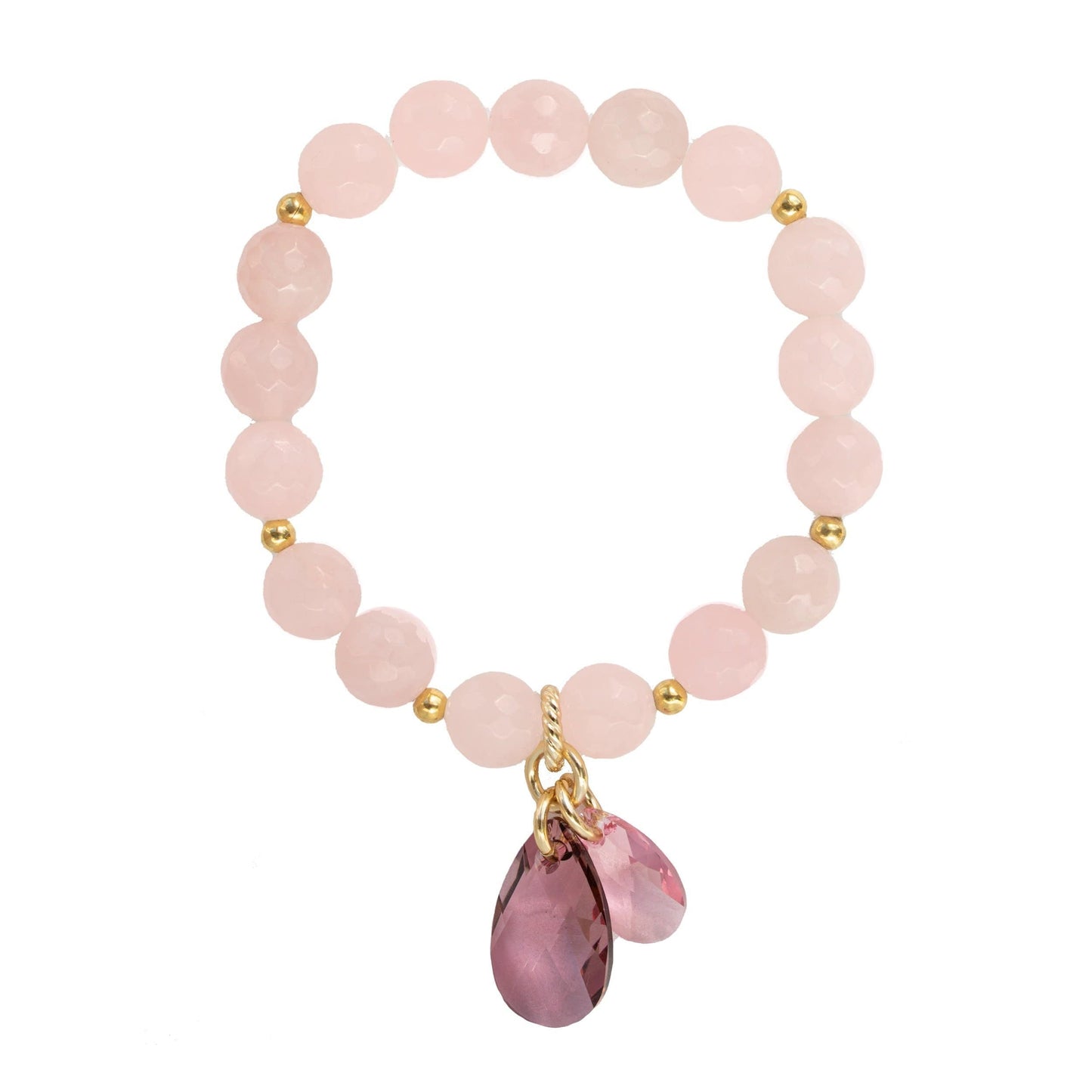 Choosing a selection results in a full page refresh.